Evaporator Nassenheider Professional (SKU: 7807)
Die Gesamthöhe beträgt nur 70 mm-somit passt er sogar in umgedrehte Futterzargen!
Der Tank ist eine Flasche mit Skala - befüllen Sie diese unter optimalen Sicherheitsbedingungen in Ihren Räumen und nehmen Sie die dann geschlossen mit zu den Bienenständen.
Der Tankinhalt beträgt 290 ml - genug um auch große Völker mit Ameisensäure zu behandeln, ohne zwischendurch wieder auffüllen zu müssen.
Der ganze Verdunster ist eine kompakte Einheit.
Der horizontale Docht liegt in der Bodenwanne. Dadurch wird die jungen Brut direkt unter dem Verdunster vor den konzentrierten Gasen geschützt. Die Bodenwanne schützt Ihre Bienen auch zuverlässig vor flüssiger Säure, falls doch mal etwas daneben gehen sollte. Der Verdunster steht damit absolut stabil.
Die Bodenwanne dient auch der Aufbewahrung außerhalb der Saison.
Zwei Bodenwannen zusammengesteckt ergeben eine stabile Box, die leicht in Ihrem Regal Platz finden wird.
Behandlung mit Ameisensäure
Die Behandlungseffizienz von Varroa mit Ameisensäure liegt zwischen 90 und 95%, die Wirksamkeit jedoch hängt von vielen Faktoren ab: von Temperatur, Luftfeuchtigkeit, der Stärke der Bienenfamilie bis hin zur Belüftung Fähigkeit der Bienenfamilie von Bienenstock.
Bei Nutzung der Ameisensäure müssen wir besonders achtsam auf die Fläche von Säureverdunstug, das Volumen des Bienenstocks, die Stärke der Bienenfamilie, Konzentration und Dosierung der Säure sein.
Die Ameisensäure wirkt auch auf das verkalkte Brut, da es die Bienen dazu zwingt, infizierte Puppen zu entfernen bevor die sich in verkalkte Brutmumien verwanden.
Die Behandlung mit Ameisensäure können wir auf zwei weise durchführen:
Beim Verfahren von Langzeitverdünstung werden Verdampfer eingesetzt. Somit erreichen wir, dass die erforderliche Säurekonzentration, um die Varroa zu zerstören länger im Bienenstock verbleibt.
Beim Verfahren von Kurzfristigen Verdünstung, so genannten Schockmethode, verdünsten die Ameisensäure in kürzer Zeit. Um solch eine Bekämpfung effektiver zu machen, muss der Vorgang mehrmals wiederholt werden.
Bei der Behandlung mit Ameisensäure, ist es empfehlenswert die Schockmethode zu benutzen. Nur bei dieser Methode können wir uns darauf verlassen, dass eine bestimmte Menge von Säure auch in einer bestimmten Zeit verdunsten wird.
Bei der Langzeitverdünstungs Methode, die 7 bis 10 Tage dauert, können an den Tagen, an denen wir Verdampfer in den Bienenstöcken haben, extreme Schwankungen der Außentemperaturen auftreten, was sich direkt auf die Zunahme der Ameisensäure Verdunstung und somit auch auf die Folgen bei Bienenbrut und Bienen auswirkt.
Vorteile:
rasche Befalls Reduktion – daher auch bei starkem Befall empfehlenswert
wirkt gegen Milben auf Bienen und in der verdeckelten Brut
keine Einschränkung der Anwendung auf bestimmte Verdunstertypen – Imker ist für Wahl der Verdunstungshilfe selbst verantwortlich
ein- bis mehrmalige Behandlung möglich, je nach Ausgangsbefall bzw. Milbeneintrag
bei richtiger Anwendung keine Rückstandsbelastung der Bienenprodukte
Nachteile:
Brut-, Bienenschäden bei Überdosierung oder hohen Außentemperaturen
starke Säure mit korrosiven Eigenschaften
Schutzmaßnahmen nötig: säurefeste Handschuhe, Schutzbrille
Wirkung ist witterungsabhängig: kann bei kühler, feuchter Witterung reduziert sein
Guarantee and purchase without risk
100% satisfaction guarantee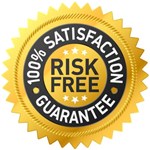 When you buy a honey extractor on our website you do not have to worry about whether you will be satisfied with the product. We guarantee a 100% Satisfaction Guarantee - if the product does not meet your expectations, you can return it within 14 days and we will refund the purchase price.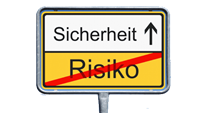 50% deposit, the rest after delivery
Since we want to make sure that you feel safe and undoubted when placing an order, we offer you the option of paying only 50% of the purchase price when ordering, and the remainder after delivery.
We believe and we know that the Logar honey extractor will absolutely delight you .
Product warranty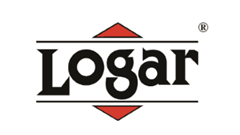 All honey extractors are tested before they leave the factory so they are guaranteed to function properly .
Honey extractors have up to 2 years warranty. In the event of a problem, Logar's development engineers will be available to advise you and provide the necessary replacement parts.
Payment methods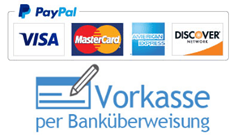 Payment by bank transfer or Master Card, Visa, American Express (Paypal).
The steps of an order
1. Put the desired items in the shopping cart and make the order. Write us your further wishes.
2. We check the order and send you the order confirmation.
3. You make a 10% down payment.
4. We prepare the ordered items and inform you when we can ship.
5. You will receive the ordered products and pay for the rest.
Ordering the items is very easy and convenient.
Request a quote
Do you need further information or a personally prepared offer? Send us a question and we will answer you as soon as possible.