Varroa Tester (SKU: 7830)
Bedienung:
Sie entnehmen ca. 200 Bienen aus dem Brutrahmen (vermeiden Sie die Königin einzufangen) und geben Sie die Bienen in den Tester.
Nun betäuben Sie die eingefangenen Bienen und Milben mit CO2-Gas. Nach 10-20 Sek. schütteln Sie den Varroa Zähler leicht für etwa 10 Sek.
Wenn Varroamilben vorhanden sind, fallen diese durch das Gitter. Durch das Zählen der Milben kann der Varroabefall ermittelt werden.
Die betäubten Bienen wachen nach kurzer Zeit wieder auf und können danach unbeschadet zurück in die Beute gesetzt werden.
Leicht, einfach und schonend für die Bienen.
Inkl. CO2 Spender und 2 x 16 Gram CO2 Standardpatronen (1 Patrone ausreichend für 4-6 Tests). TIP: die CO2 Patrone steht unter hohem Druck und gibt bei den ersten ein bis zwei Dosierungen relativ viel CO2 ab. Geben Sie deshalb am Anfang nur für kurze Zeit CO2 in das Zählrohr.
Guarantee and purchase without risk
100% satisfaction guarantee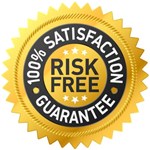 When you buy a honey extractor on our website you do not have to worry about whether you will be satisfied with the product. We guarantee a 100% Satisfaction Guarantee - if the product does not meet your expectations, you can return it within 14 days and we will refund the purchase price.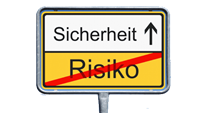 50% deposit, the rest after delivery
Since we want to make sure that you feel safe and undoubted when placing an order, we offer you the option of paying only 50% of the purchase price when ordering, and the remainder after delivery.
We believe and we know that the Logar honey extractor will absolutely delight you .
Product warranty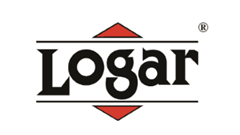 All honey extractors are tested before they leave the factory so they are guaranteed to function properly .
Honey extractors have up to 2 years warranty. In the event of a problem, Logar's development engineers will be available to advise you and provide the necessary replacement parts.
Payment methods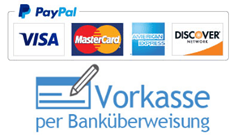 Payment by bank transfer or Master Card, Visa, American Express (Paypal).
The steps of an order
1. Put the desired items in the shopping cart and make the order. Write us your further wishes.
2. We check the order and send you the order confirmation.
3. You make a 10% down payment.
4. We prepare the ordered items and inform you when we can ship.
5. You will receive the ordered products and pay for the rest.
Ordering the items is very easy and convenient.
Request a quote
Do you need further information or a personally prepared offer? Send us a question and we will answer you as soon as possible.